The U.S. stock market was roughly flat in the month of April following some wide swings, and both the S&P 500 Index and the bond market are down on a year-to-date basis, something that has not happened in years.
The stock market has been in a correction phase since late January and volatility has increased due to concerns of a potential trade war with China, rising interest rates, and growing tensions in Syria and Iran. Following President Trump's initial proposal to slap tariffs on steel and aluminum imports, China swiftly retaliated with announced tariffs of their own, including a 25 percent tariff on critical U.S. exports including soybeans, the biggest U.S. agricultural export to China, and airplanes. Although the proposed tariffs would not go into effect for months, if ever, clearly the threats are creating a heightened level of uncertainty for the markets.
Meanwhile, oil prices have been on the rise as a barrel of West Texas Intermediate hit $68, the highest level in four years as seen below, and the yield on the ten-year U.S. Treasury Note hit 3 percent during April, a level last seen in January 2014.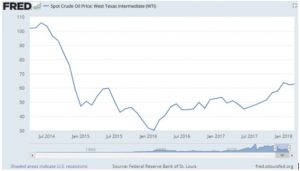 TJT Capital Group's InVEST Risk Model® has helped our clients participate in bull markets and protect capital from the devastation of bear markets by focusing on 5 indicators that really matter when it comes to determining the health and direction of markets. The following is the most recent update.
Check out the full report here.