Proven Insights
February 5, 2020
While the liquidity backdrop is favorable and the economy is growing, investors should brace for more volatility due to these ongoing developments and the proliferation of trading algorithms, which can cause wide swings in prices.
November 5, 2019
The other thing that the Fed is doing is increasing the size of their balance sheet as seen in the following chart. For the first time since 2014 the Fed's balance sheet is intentionally growing.
At the end of October, the Fed's balance sheet stood at $4.01 trillion, up 6.9 percent from the early September level. While the Fed points out that this "Balance Sheet Normalization" is required to address the need for additional reserves in the system and not technically "QE"(quantitative easing), it nonetheless is adding additional liquidity to the system, which is a positive.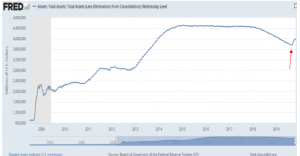 May 2, 2019
DJIA 26,307.79
While it is obvious that the markets have had a pretty impressive run, we are seeing some indications of excess that could be a precursor to an increase in volatility. For example, a number of "hot" initial public offerings are taking place with companies that do not have earnings, some of which are more than doubling in price on the first day of trading.
In addition, reports show that large speculators were net short a record amount of futures contracts on volatility, betting that market volatility will remain low. While these two specific data points do not mean the market is going to roll-over, they do point to a rising element of euphoria and complacency.
 February 1, 2018
DJIA 26,186.71
After going well over a year without even a 3 percent pullback, there are signs that have been present prior to episodes of market turbulence in the past.
July 5, 2016
DJIA 17,840.62
If those earnings come in and the price/earnings ratio remains at current levels, the market could see a low double-digit gain from here.